Red Wing 8282 100th Anniversary
In 2005, Red Wing Shoes celebrated 100 years after the establishment of Red Wing Shoes on February 10, 1905. Considered a shoe that has a history of over a hundred years. Starting from shoes for hunters, miners, industrial workers, agricultural workers and livestock. Until the fashion era. Red Wing shoes still maintain original production standards and develop in some ways until today.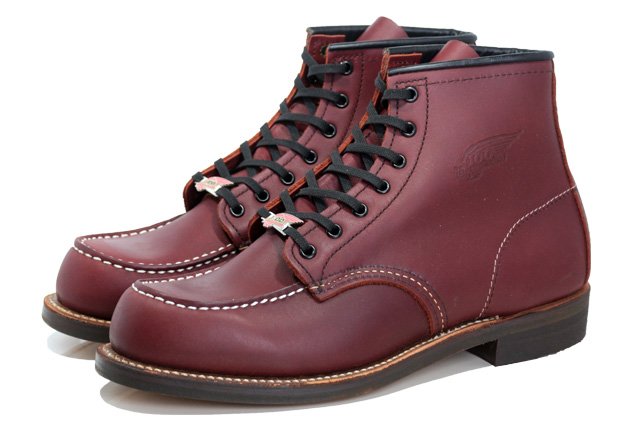 In celebration of the 100th anniversary of Red Wing Shoes in 2005, the company has produced special products for Red Wing Shoes customers in each model and there is a limited amount.
Red Wing 8282 Moc Toe shape Copper brown, produced in 2,005 pairs
Red Wing 8283 Moc Toe shape Black Black Chrome produced in 2,005 pairs
Red Wing 8284 Black Chrome produced in 2,005 pairs
Red Wing 8285 Velva "Boomer" produced a number of 2,005 pairs
Red Wing 1909 Beckman produced a number of 2,005 pairs
Red Wing Shoes products still have many versions produced in 2005, which are stamped with 100-year-old trademark, but not limited to the amount of production.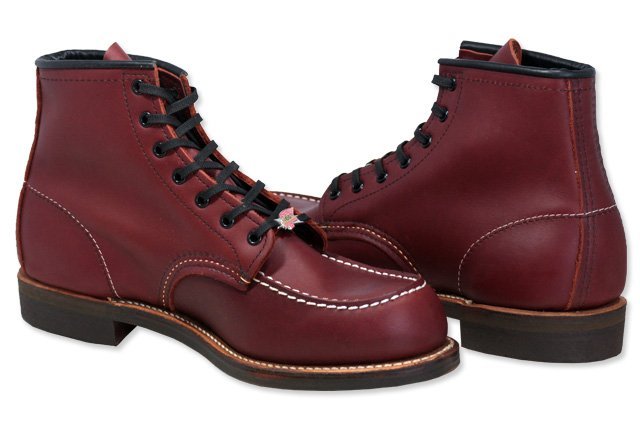 For the Red Wing 8282, this pair of shoes is manufactured for the 100th anniversary of Red Wing Shoes. Limited edition, produced only 2005 pairs. The number according to the year of production is 2005, considered very small. If anyone has possession, you can be considered 1 of the 2005 pairs that exist in this universe. We came to see the details of this pair of shoes better.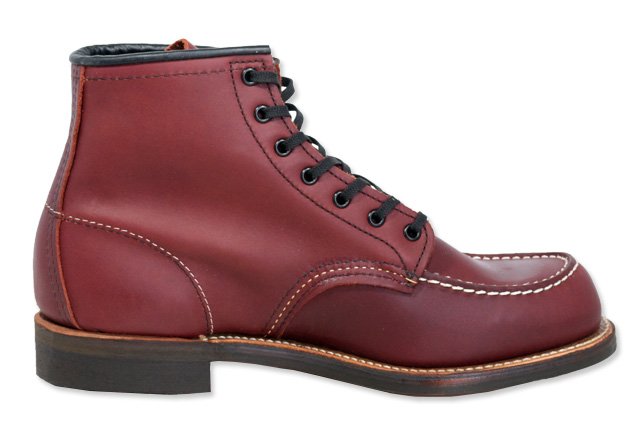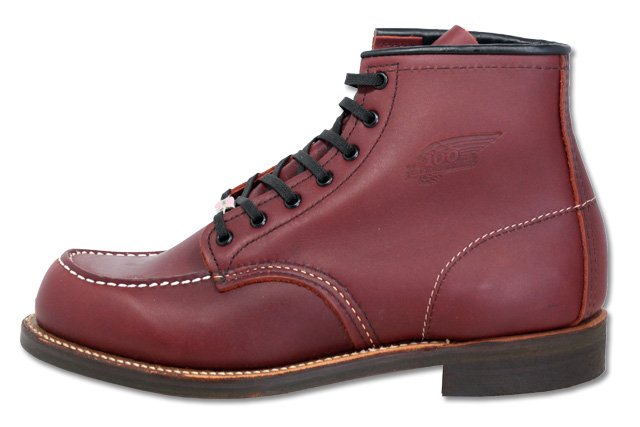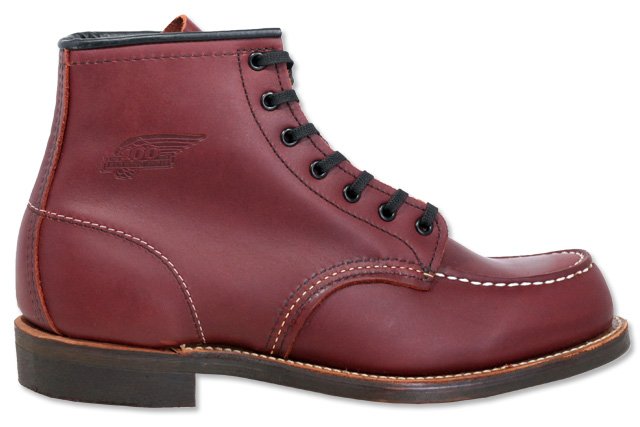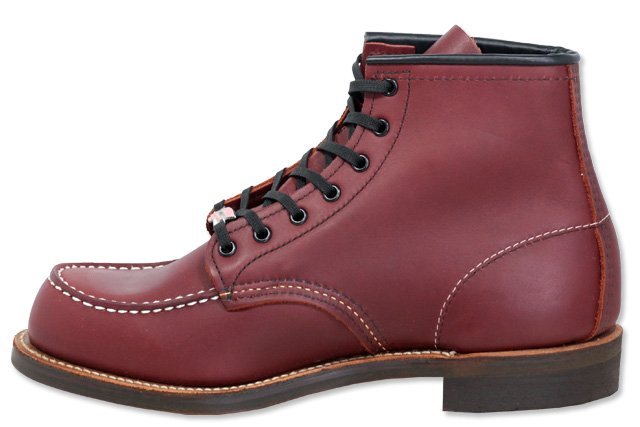 Classic Moc Toe
For the Red Wing 8282, his shape will be a Moc Toe style, which is the shape that makes Red Wing Shoes stand up to this day. Classic Moc Toe is a 6-inch boots. The word Moc Toe is derived from the language. Red Indian tribe is Moccasin meaning shoes. Which looks like the shoes of this indigenous Indian tribe Has sewed the leather into the shoes and the main highlight is the shoe's head, which will be stitched together from the top and the bottom as a U shape, as seen in the picture This style of stitching makes the leather shoes fit in the foot beautifully and is strong and durable for all terrain.
Auburn skin
This leather shoe has been specially selected by the Red Wing and placed the wing pump on the outer ankle to show an elegant red winged symbol. But it is important that the number 100 represents the characteristics of this pair of shoes. It rare item because it is a shoe manufactured on the 100th anniversary of Red Wing Shoes and is limited.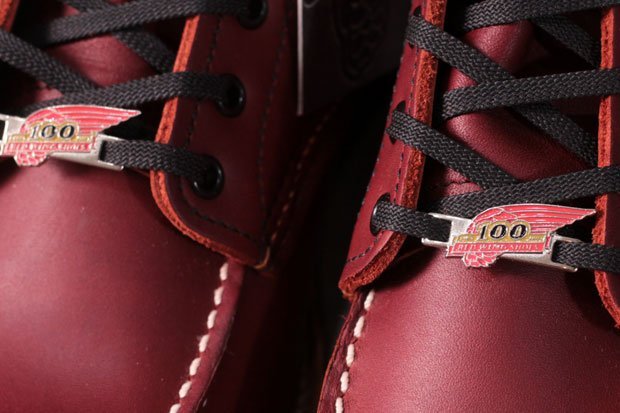 Shoelaces eyelets
Dark black, but if you look from the inside through the hole when exposed to light, it is not difficult to notice that the metal eyelets are made of brass. We will see a clear brass surface.Brass. It is a symbol of vintage because today's products are not easy to produce from brass materials.
Shoelaces
This Red Wing shoes 8282 100th Anniversary shoelace will be a sleek black rope. Is a flat braided rope Not a round rope Like in other models I think it's beautiful and quite compatible. Especially when we add the tag of the 100 years to it, adding more beauty and outstanding features for this rare pair of shoes.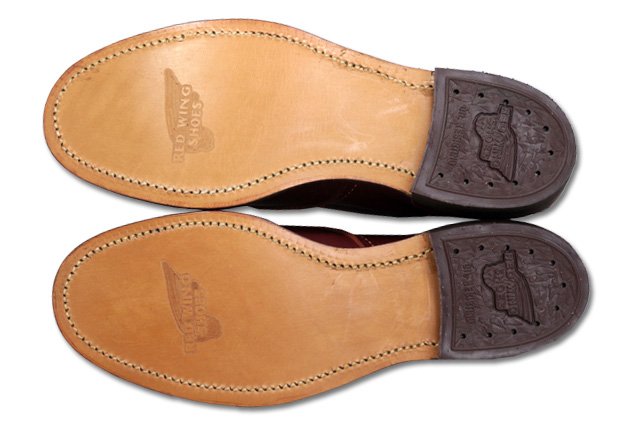 shoe soles
The soles are not difficult to consider at all. IT made of wood. This model will make 2 wooden floors first and then connect with rubber heel. It looks very classic. The first wooden floor will be sewn into the leather shoes. And the second wooden floor will be tightly sewn to the first wooden floor. Beneath the floor is a beautifully engraved Red Wing Shoes logo.  The last piece is a dark brown rubber flooring. On the floor below the heel is the wing pattern and the Red Wing Shoes logo, followed by the word Oil Resisting. That means you will not slip, fall. When accidentally stepping into the oil. For insole That many people see may be uncomfortable, that is the edge of the wood. Which is grinding with a grinding wheel to store the edges It is a hand crafted work. Each person is allowed to work out differently. For this couple, I saw that there was a slight error in the skin of the shoe. But that's it, a trace of history.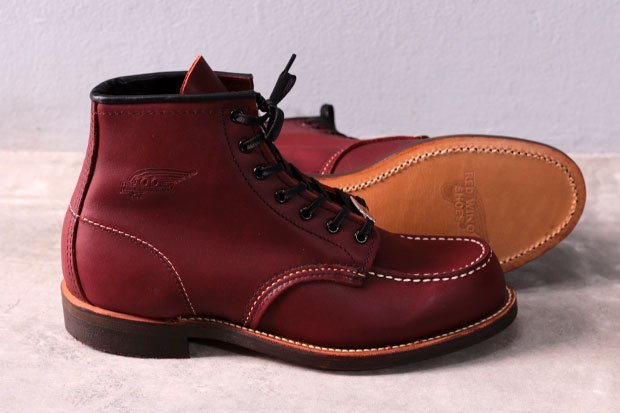 sewing
Red Wing 8282 shoe stitching is one point that we can consider the accuracy. Can be used together because the machine used to sew the red wing 8282 is a double needle, that is, the thread has a parallel slot, whether it is a double thread or double line in the crimp head. Side and top will have a matching spout across the line. Look beautiful.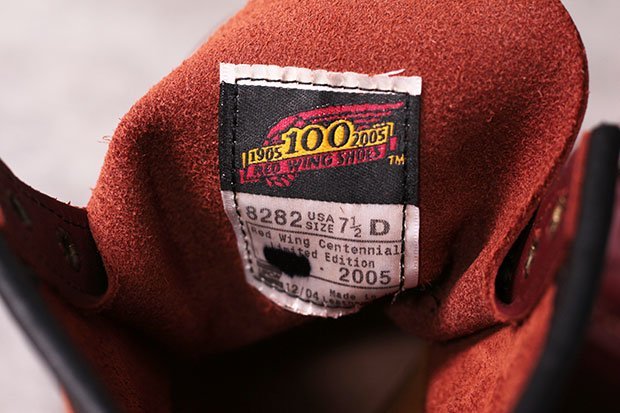 label
The inner label has the logo of Red Wing Shoes in the black floor, red wing and yellow floor.
There is a black font 1905 100 2005. This represents the 100th anniversary of the Red Wing Shoes.
Model 8282 and size 7 ½ D are shown in the square frame.
It has the letters Red Wing Centennial Limited Edition 1356 - 2005, meaning that these shoes are manufactured in a limited number of 2005. This pair of shoes is number 1,356. It indicates Limited Edition.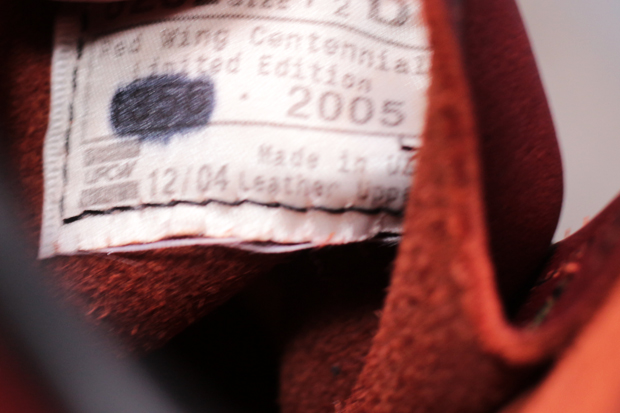 This pair of Magic Ink with serial number labels That reason I don't know. But it doesn't matter. I use lights to illuminate, and I can see clearly the number 1356 on both sides. Actually, this type of work should show numbers not concealing hidden numbers. For the production year specified as 12/04, that is produced in December 2004, thought to be produced in advance. And sold out in 2005 and of course, Red Wing shoes are made in the United States There are currently not many shoe products that are manufactured in the United States.
Inside shoes.
The skin inside the shoe is dark brown suede It is soft and smooth. When really touching, inside the light brown wood floor Does not have any special logos or logos.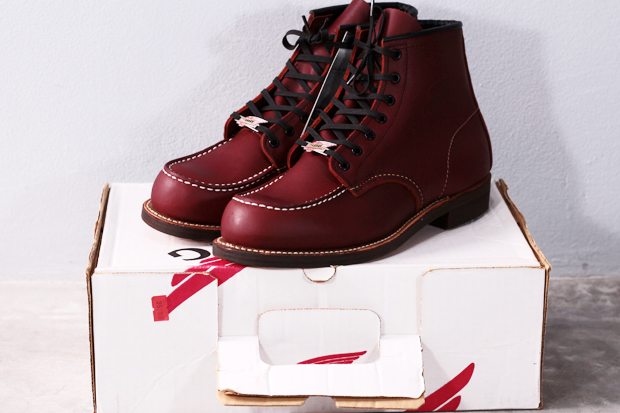 conclude
The Red Wing 8282 is a special edition leather shoe celebrating the 100th anniversary of the Red Wing Shoes. From 1905 until 2005, the limited edition was produced for only 2005 pairs.