What Levi's jeans are right for you?
Levi's jeans many people wonder that he brought to online sale in the second hand jeans. Why is it so expensive to sell? In the store or in the Shop Levi's new, it is not expensive. Sometimes there are promotions to buy 1 get 1, then he sold it to sell it. Why is it that it is expensive to old and old, some of the old fashioned to lose the whole thing. The price is still thousands to the main ten thousand, but I have to buy it again.
We came to understand about Levi's jeans that he traded better. How is it different from other brand jeans?
Levi's jeans are divided into four groups as follows: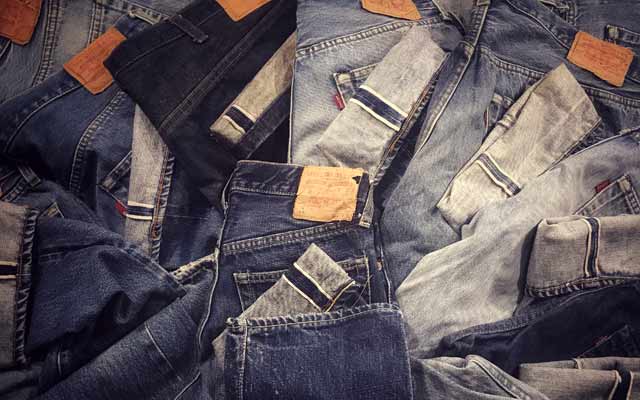 Group 1 Levi's Vintage (Levi's Vintage)
Jeans Levi's vintage vintage line. Is considered antique Of ancient precious immortal Price considerations depend on the satisfaction between the buyer and the seller. Levi's Jeans (especially Levi's 501) The older but the perfect condition, the price is very expensive. Because the old jeans. With a perfect condition, these rare Levi's jeans are vintage. It is the desire of an avid jeep collector. Or any of them. And have to buy it for a long time. The longer the price, the more expensive. For Levi's Jeans produced in the early years. In 1873 until 1983, if the year was very high, it would be even more valuable. For example, Jeans "Levi's 501 Nevada" was found dead in the desert. "Nevada" and research. Levi's 501 jeans were first introduced in 1880, and were the prototype of the Levi's 501xx jeans, which cost about $ 42,000. And why Levi's vintage jeans have come to a halt in 1983?
In fact, some groups have defined Levi's vintage as actually going to the LEVI'S label. Big E is 1971, because 1972 changed the red label "Levi's" to "e". already I think Levi's jeans "e" in the early days are still using the production process is not very different from the "E" to much. For Levi's "e" small first began to use the fabric "Denim" woven with a narrow front machine. Used to sew trousers. It has a white cloth. Red line (selvedge), we often call it "red" jeans, it was gradually discontinued around 1983, but still enough to produce a bit more fabric. Left over And after that It will enter a new industry. Use new modern machines, weaving more width. Can produce more sales pants. It was not until 1984 that the fabric of the red ribbon to the seams to be used as a "rim" that we see in Levi's 501 jeans today, except for the premium jeans. Or the production of the LVC retro. Levi's old factory is gradually closed.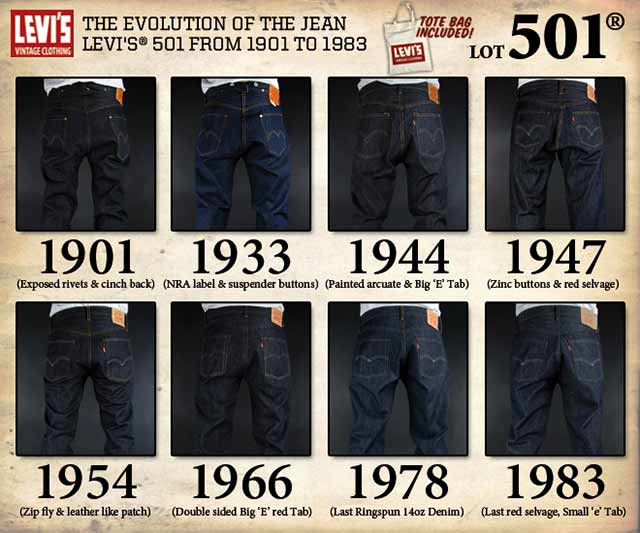 Group 2 Levi's Vintage Clothing (LVC Levi's Vintage Coat or Levi's Retro)
Recreations (Rebuilt Group 1), because Levi's Vintage jeans are traded in the second-hand market with a lot of money. With vintage jeans and important vintage jeans are rare.
Levi's saw the marketing channel. To fill Craving for customers Production of new imitation of antiques. The prototype is in Levi's Museum. "Production retro" sales myself This is a marketing technique that is flat. Many competitors have disappeared. Using traditional weaving Original machine And all traditional production processes. To get Levi's Jeans closer to Vintage Group 1 jeans.
Of course, the traditional production line is offline. It makes the number of jeans less than the current production line, so the LVC is higher than the normal production. The LVC is produced in the USA and Japan, and some countries only. Some LVC models are expensive for the jeans market. Second, such as "Levi's 501 Nevada" produced LVC in 2001. Currently there is a demand. And very high prices in the second hand market.
Group 3 Levi's Made in USA
Levi's Levi's Made in USA Produced since 1983 in the United States, began 1984, and continues until 2003. It means new Levi's Jeans produced at the factory. Made in USA, such as at the San Francisco plant, but with the current economic situation, Levi's jeans factory in America can not survive the economic crisis, many factories in America must shut down. Using the production outside the country instead. Or do you hire a factory to produce generic jeans in America instead? Made in USA is rare and expensive. Levi's made in USA is a requirement for this group of jeans (Made in USA) jeans very much. Although it became a second hand (Made in USA), it also made a satisfactory price. For those who think to sell it always.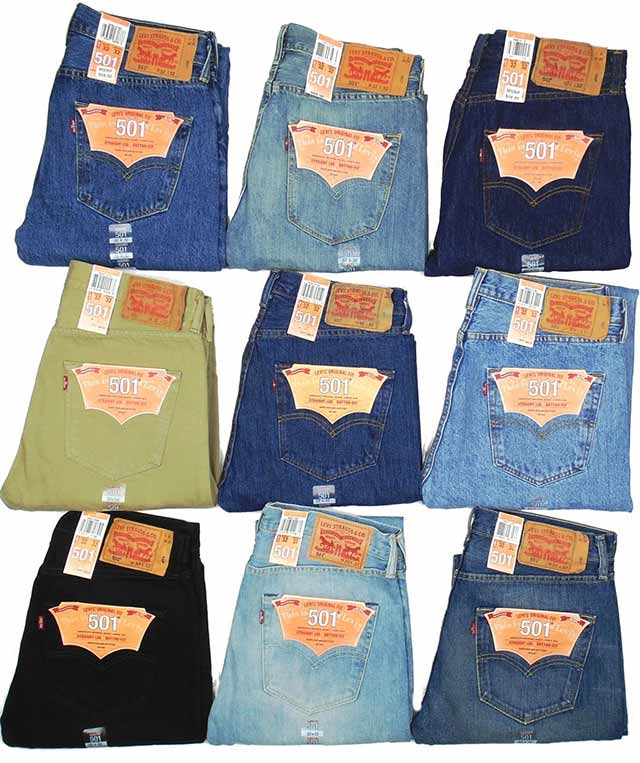 Group 4 Levi's Copyright
Levi jeans denote regular production lines. Licensed by Levi's copyright owners. Outside the United States. The Levi's jeans are made in different countries. As allowed Using machinery and raw materials of that country. Levi's is certified to Levi's standards for quality. It depends on the ability of the machine and the denim fabric of each country. For example Made in Japan, the quality of Denim fabric is good. It is more acceptable to produce standards than other countries. (Prices are more expensive than other countries too.) Jeans Levi's. It is not mentioned much. In the special. And the price is according to the manufacturer. And the store is already fixed. If you buy Levi's Shop, the price will be 1-3 thousand, depending on the promotion. And when we get tired of these jeans? If you are thinking of selling second hand jeans. The price will be around 200-800 Baht depending on usage conditions.
For you! If you think to buy Levi's, you buy in which group? If you do not have a lot of Levi's Jeans, think about buying jeans for work. Or wear a Levi's daily routine. Group 4 license in Shop Levi's produced in the normal production line. Made in Thailand Selling by the mall is worth it. Cost effective ever. If you are a Levi's jeans lover, you will love Levi's Jeans and like Levi's Jeans. The Jeans Group is a proud jeans if you have it. Group 2 LVC is the best choice. Even if you pay more than usual. I guarantee that. You will get the most traditional jeans. If it is to make a profit in the future, it will be as well.
Group jeans made in America. It is an equally good choice. The jeans are easier to buy and have new condition. To buy a lot The price is more expensive than the copyright in the country. But if anyone wears it. The American feel of Western style, it will be quite beautiful legs. This group of jeans to sell as second-hand jeans, it is enough to buy enough money to buy new jeans. I have a comfortable offline.