Blog JeansZa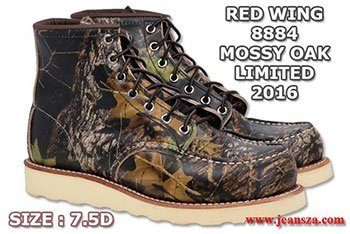 Red Wing 8884 for the real "hunter"
Leather shoes that I like to wear with one of the most jeans, Red Wing Shoes, are American shoes. With a history of over a hundred years And American soldiers have worn through the world war both times Is a shoe that still retains the traditional manufacturing technology without much change Combined with good machinery So we get Red Wing Shoes for us to wear.
Details

Written by:

JeansZa

Category: Blog JeansZa
Also available:
Hits: 1419
Levi's 501 Selvage Bar Tag!
Usually Levi's 501 jeans selvage, many of which have been worn, must know that "Black bar tag". At the top corner of the back pocket  Even Levi's 501 jeans that are not selvage red line. During the overlapping period of change, from 1983 on wards, non selvage. We also found a non selvage red line "black bar tag". Can be found less Therefore considered a rare jeans as well.
Details

Written by:

JeansZa

Category: Blog JeansZa
Also available:
Hits: 1448