Blog Jeans
Blog JeansZa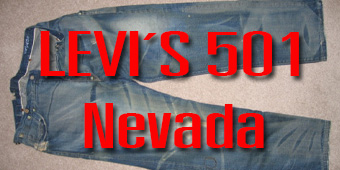 Levi's 501 "Nevada"
Used Jeans The most expensive. What do you think is the brand jeans? Levi's 501 "Nevada" jeans are priced as high as $ 42,000.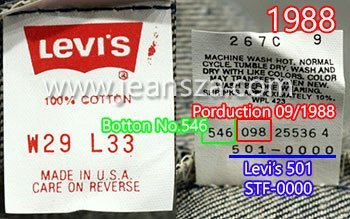 How to see Levi's care instruction label since 1987-1994
This time we will come to see the care instruction labels that many people are familiar with. And often see each other often. That is the care instruction label "Bat Wings" Started with Levi's jeans during the years 1987 - 1994. Made to be used in 2 colors, red and black. Let's see the details better than what the batting care instruction label in the 80s-90s has. What's interesting?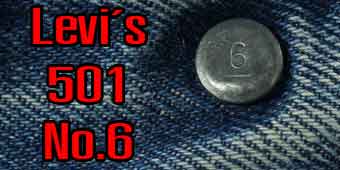 Levi's 501 Selvedge "e" number 6
Levi's 501 red tab buttons No. 6 is divided into periods of time and time. It has many details that people play Levi's 501. Selling profit. What you know? Levi's 501 Red tab "e" Button 6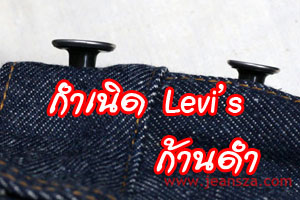 Levi's black stud button.
Levi's black stud button of jeans that can hold the hearts of Levi's lover, not least Levi's 501, which has the finest fabrics of beauty and durability. Even today it is less visible. But still there are people who want to take over Levi's Black Leaf, a lot of Levi's Black stud where it originated?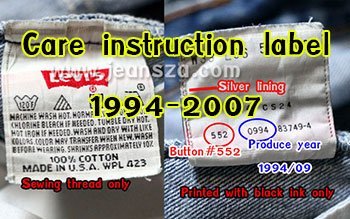 Levi's bat wing care instruction label.
Come back to watch again. For Care Instruction Label of Levi's Jeans that everyone likes. For this article I collected the care instruction labels of Levi's jeans from 1994-2007. But there are some years that have to cross the year because I don't have jeans in that year. We started with the Care instruction label in 1994, which has changed and further developed into something that is Silver Lining or Silver Ribbon. Many people who have fallen in love with Levi's 501 jeans will definitely get through this time.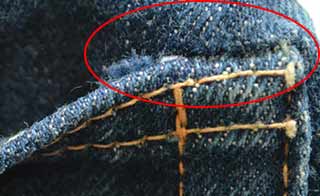 Levi's Bar Tacks.
Small parts Levi's Many people use the criteria to identify the age of vintage Jeans Levi's. What jeans are Levi's in that era. How years old. Actually, there are many other components, but this time we will focus on the "Bar Tacks"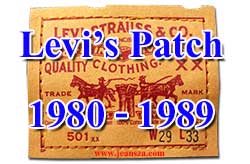 Includes Levi's, 80s Patch
In the 1980's or 1980-1989, the popularity of Levi's jeans was greeted by customers around the world. And this era has changed the original production line is the red jeans. Changed Denim jeans in 1983. This change itself. Levi's jeans on the red edge is the desire of the Levi's disciples even the jeans jeans. There will be no difference. But many are nostalgic. Jeans on the red edge anyway.